NEXT STORY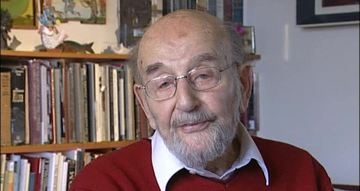 How the equipment has changed
Stills photography and children's books
Wolfgang Suschitzky
Film-maker
1
2
3
4
During all my film work, I carried a camera wherever I went, and continued to take a lot of stills, as we call them. And had such good chances like photographing Nehru and other heads of state like Beneš, a Czech president who had his government here in London during the war and others. Of course Julian Huxley and Sean O'Casey I photographed a lot, and got very friendly with him and his family. And my photographs found appreciation and in 1982 it was, I had my first big exhibition here in London at the Photographer's Gallery, which was then run by Sue Davis, a wonderful woman who did a lot for photography in this country, and is still active. I subsequently had other exhibitions. I published children's books, photographed in... in colour in those days, which was rather early colour. The most known one was called That Baby, about a young boy who expects a sibling, and it was made by... with the help of a psychologist who worked with Anna Freud, and was found very useful by parents who wanted to introduce the problem to their young son, or daughter. There were other children's books — alphabets — and later I did a book in '57, I believe, with Julian Huxley writing the text, about animals. That was mainly, it was called The Kingdom of the Beasts, published by Thames and Hudson, long out of print, unfortunately. In those days it was very difficult to get photographic books published because-it was a very expensive process. Photographing was the best, but you had to have an edition of about 20,000 to make it pay. I subsequently had exhibitions in Amsterdam and in Vienna, and a book published a couple of years ago in Vienna, in two languages, which is still about. I think most of your photos have been black and white, haven't they? Most of my pub... yes, my most... all my photographs exhibited or published were in black and white, except the early children's books, and... sorry. Do you prefer it? I prefer it, and I never learnt how to print colour. I did all my own printing for exhibitions, and the pictures in my last book were all scanned from my prints.
Born in Austria, Wolfgang Suschitzky (1912-2016) trained as a photographer and became one of the first in his field to take portraits of animals. After coming to England he worked with Paul Rotha as the cameraman on various documentaries and films such as "No Resting Place", "Ulysses" and "Get Carter".
Title: Stills photography and children's books
Listeners: Misha Donat
Misha Donat is the son of Wolfgang Suschitzky. He has composed music for the theatre and the cinema (including films directed by Lindsay Anderson, and by Albert Finney). For more than 25 years he was a senior music producer for BBC Radio 3, where he planned and produced the prestigious lunchtime concerts at St John's, Smith Square, at which many of the world's leading artists appeared on a regular basis, and also instigated a Young Artists' Forum as a showcase for musicians of the coming generation. As a broadcaster himself, he has given many radio talks. Misha Donat has contributed a large number of programme notes to the Wigmore Hall, Carnegie Hall, South Bank, Aldeburgh Festival, Edinburgh Festival, Brighton Festival and other venues, and he has written CD booklets for such labels as Decca, DG, RCA, Philips and Hyperion. He has been a regular contributor to BBC Music Magazine since its inception more than 10 years ago, and has written articles for The London Review of Books, The Guardian, The Musical Times, The Listener, Opera, and other publications. He has taught at the University of California in Los Angeles, and has given lectures and seminars at Vassar College and Bard College in New York State, Johns Hopkins University (Baltimore), and in the UK at Durham University, the Barbican Centre, the Royal Festival Hall, and the Norwich Music festival. He is currently working as a producer for the Philharmonia Orchestra.
Tags: London, That Baby, The Kingdom of the Beasts, Thames and Hudson, Amsterdam, Vienna, Edvard Beneš, Jawaharlal Nehru, Julian Huxley, Sean O'Casey, Sue Davis, Anna Freud
Duration: 4 minutes, 42 seconds
Date story recorded: March 2008
Date story went live: 06 August 2009