NEXT STORY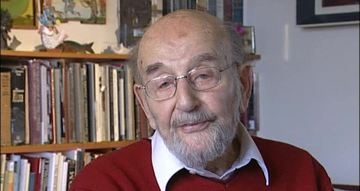 Filming in coal mines and dangerous situations
How the equipment has changed
Wolfgang Suschitzky
Film-maker
1
2
3
4
I started out using a... a Rolleiflex when I left school, but soon wanted to use longer lenses for portraiture and for animals who I could get near to, and started to use single lens reflex cameras. In those days there was the Primaflex, a German camera, later an Agiflex, an English camera, which was quite good except I had some difficulty with the spacing of the negatives. They sometimes overlapped a bit, and when the Hasselblad came to Britain, I was one of the first to buy one, and that was my main camera for many years, with three lenses, 80mm, 150, 250. But in my old age it became too heavy for me to carry about with the three lenses, and I switched over to 35mm, a Canon camera. And now I play about with a digital camera because I can put it in my pocket, but I also have a... a more professional digital camera with a very good lens — a Zeiss lens — a Sony camera. On the film side we used Arriflex mainly after the war, even for sound; they did cameras which were almost soundproof.
Has film stock been getting faster over the years?
Film stock certainly got faster for stills and for film. It was quite difficult in the early days to film in poor light, something which can be done easily nowadays. But when the fast films came I... I happened to be in Thailand, I think, and talking to film people. They say... they told me 'It's terrible, this film is so fast, what are we going to do? We can't...we have so much sunlight here'. They didn't know they could use neutral dense... neutral filter, neutral density filters, or use a smaller opening in the shutter if their camera was adjustable... had an adjustable shutter. But nowadays it... everything has become so small and much easier and much faster. Life has become too easy almost, certainly for producers who send out a cameraman on the job without any assistant or without even a soundman. We... it was, in documentary films, it was very pleasant to work with a small crew of about four to six people, and maybe a couple of electricians, more if necessary. If I... if I had to film in a big steelworks, I needed say 10 arc lights and the cabling of the big arc lights was very, very heavy and we needed a good number of people. But, on documentary films when travelling about, you were practically married to your colleagues, you stayed in the same hotel, you ate in the same restaurant, and you were very close. But on a feature film, you had 60 to 80 people working, although the camera crew was always close, and when you watched a film unit on location outdoors, you saw five people around the camera: the cameraman, the operator, the director and the grip, who had to move the dolly and set up the tripod and so on, and the rest of the 60 people were sitting in the grass watching. Of course many of them had to get up at five o'clock to do the make-up and do the wardrobe and they had done all their jobs and were there in case there was need for the hairdresser to comb the hair or the... the wardrobe woman or man to change the wardrobe, and of course the continuity girl was always around the camera too. They call them script supervisor now.
Born in Austria, Wolfgang Suschitzky (1912-2016) trained as a photographer and became one of the first in his field to take portraits of animals. After coming to England he worked with Paul Rotha as the cameraman on various documentaries and films such as "No Resting Place", "Ulysses" and "Get Carter".
Title: How the equipment has changed
Listeners: Misha Donat
Misha Donat is the son of Wolfgang Suschitzky. He has composed music for the theatre and the cinema (including films directed by Lindsay Anderson, and by Albert Finney). For more than 25 years he was a senior music producer for BBC Radio 3, where he planned and produced the prestigious lunchtime concerts at St John's, Smith Square, at which many of the world's leading artists appeared on a regular basis, and also instigated a Young Artists' Forum as a showcase for musicians of the coming generation. As a broadcaster himself, he has given many radio talks. Misha Donat has contributed a large number of programme notes to the Wigmore Hall, Carnegie Hall, South Bank, Aldeburgh Festival, Edinburgh Festival, Brighton Festival and other venues, and he has written CD booklets for such labels as Decca, DG, RCA, Philips and Hyperion. He has been a regular contributor to BBC Music Magazine since its inception more than 10 years ago, and has written articles for The London Review of Books, The Guardian, The Musical Times, The Listener, Opera, and other publications. He has taught at the University of California in Los Angeles, and has given lectures and seminars at Vassar College and Bard College in New York State, Johns Hopkins University (Baltimore), and in the UK at Durham University, the Barbican Centre, the Royal Festival Hall, and the Norwich Music festival. He is currently working as a producer for the Philharmonia Orchestra.
Tags: Primaflex, Agiflex, Hasselblad, Great Britain, Sony, Thailand
Duration: 6 minutes, 9 seconds
Date story recorded: March 2008
Date story went live: 06 August 2009