NEXT STORY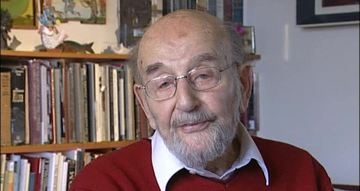 Working for LEPRA in India
Filming in coal mines and dangerous situations
Wolfgang Suschitzky
Film-maker
1
2
3
4
When we started at DATA — our cooperative film unit — we were lucky to get a commission from the Coal Board — it was the Nationalised Coal Industry, in those days — to make a kind of monthly newsreel about activities around miners. New machinery, social activities like theatres or musicians, among the miners. So, I had the good luck to go down a number of coal mines to film new machinery, how to get the coal out most economically because the high seams were more exhausted than lower seam... seams. But it was very interesting, although very hard. Even if you had a helmet to walk along a lowish shaft, your head bumped the ceiling quite often, and when... if you had to work all day in this seam which was no higher than about five ft or six ft, you couldn't stretch your legs properly, and to lift the equipment was... was very laborious. But the miners were a wonderful... group of people. They relied on each other to a great extent and they were great friends when they went up into the pub.
How did you light down there?
The only light we had at our disposal were... flameproof 500W lamps which weighed about a half a ton each, and gave very little light, but we were not allowed to use anything else because of danger of explosion, and the only camera we could use was our old clockwork camera, no batteries were allowed underground. The newsreel was shown in about 300 cinemas all over the country, mainly in the mining districts, and the families were glad to see their men at work and get at last an idea what it looks like down the coal mine. On one occasion we filmed a new machine which was an enormous Archimedean screw which dug into the coal seam, and the director said, 'Wouldn't it be a good idea if you were in the hole and saw that machine coming towards you'. And of course I said, 'Of course it... it would be a good idea'. So I went into the hole already made by the machine and saw this thing coming towards me. I had no light in there, so it got dark immediately. This thing was in the hole, but I could see it outside as it came close. Luckily the man knew when to stop the machine, otherwise I would have been minced. One doesn't think of danger if you are in the middle of a job. You... another occasion I remember was a director wanted an engine — a locomotive — 6" from the camera... end up 6" in front of the camera. So I said 'This is very difficult to do, why don't we do it... going away, and have the film wound backward, and it will look as if it is coming towards us'. And everybody thought it's a good idea, and we set it up all up with the engine about a foot away from the lens, and when the director shouted action, the locomotive driver did the wrong gear and it came towards me. Luckily my assistant grabbed me and the camera in time to get away. Or when you go up a crane in a bucket, you notice that it's held by a bit of steel the... the width of your little finger, and when you are 80' up... 80' up in the air, you realise — two people usually went up, the cameraman and assistant — how dangerous this... it is, to sit in the bucket like that. Of course another problem was stopping it from turning, the bucket. Once you are up, of course the crew down there said 'Well cheerio, we are going to lunch now' and they were going to leave us up there. They didn't really mean it. But you don't think of any danger when you are engaged on a job.
Born in Austria, Wolfgang Suschitzky (1912-2016) trained as a photographer and became one of the first in his field to take portraits of animals. After coming to England he worked with Paul Rotha as the cameraman on various documentaries and films such as "No Resting Place", "Ulysses" and "Get Carter".
Title: Filming in coal mines and dangerous situations
Listeners: Misha Donat
Misha Donat is the son of Wolfgang Suschitzky. He has composed music for the theatre and the cinema (including films directed by Lindsay Anderson, and by Albert Finney). For more than 25 years he was a senior music producer for BBC Radio 3, where he planned and produced the prestigious lunchtime concerts at St John's, Smith Square, at which many of the world's leading artists appeared on a regular basis, and also instigated a Young Artists' Forum as a showcase for musicians of the coming generation. As a broadcaster himself, he has given many radio talks. Misha Donat has contributed a large number of programme notes to the Wigmore Hall, Carnegie Hall, South Bank, Aldeburgh Festival, Edinburgh Festival, Brighton Festival and other venues, and he has written CD booklets for such labels as Decca, DG, RCA, Philips and Hyperion. He has been a regular contributor to BBC Music Magazine since its inception more than 10 years ago, and has written articles for The London Review of Books, The Guardian, The Musical Times, The Listener, Opera, and other publications. He has taught at the University of California in Los Angeles, and has given lectures and seminars at Vassar College and Bard College in New York State, Johns Hopkins University (Baltimore), and in the UK at Durham University, the Barbican Centre, the Royal Festival Hall, and the Norwich Music festival. He is currently working as a producer for the Philharmonia Orchestra.
Tags: Documentary and Technicians Alliance, DATA, Nationalised Coal Industry
Duration: 6 minutes, 37 seconds
Date story recorded: March 2008
Date story went live: 06 August 2009