NEXT STORY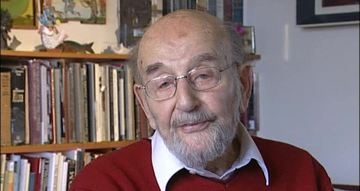 The Blitz and my family
The Charing Cross Road photographs
Wolfgang Suschitzky
Film-maker
1
2
3
4
When I first came to England in 1935, I was amazed to find that certain trades had a whole street to themselves, like Hatton Gardens full of jewellers and other streets full of clothing shops, and Charing Cross Road full of bookshops. They had second-hand books, out on the street where people could rummage and find something to read or find a first edition for sixpence, and it was a beautiful street, and I decided I would like to make a book on this street and the district around it, which was Soho, which was then full of prostitutes and all sorts of... and restaurants. It was full of Italian and French restaurants, and I wanted to make a book about this whole district. Unfortunately photographic books were very expensive to produce in those days, and I couldn't find a publisher, although I had a very good writer lined up, Peter de Mendelssohn, but I started making books... making photographs in Charing Cross road, some of the people looking at the books, some windows, what they displayed in the shop, and some characters like the milkman deliver milk and presenting the weekly bill, and the street being re-plastered with wooden blocks and then tiled over. All this sort of activity, and there was a... knife grinder, a mobile one outside one of the pubs. All this gave the atmosphere of the street, and unfortunately, as I said, I couldn't find a publisher. But about 30 years later, a German publisher saw some of these pictures at some exhibition, and went through the... the pictures I had taken then and published a small little book for £3, which was called Charing Cross Road in the '30s. These pictures have now become a historical document really. You could see people in the café with their hats on, which they don't often do nowadays. Some do have their hoods up when they go into a café now, but then it gives... it gives you the atmosphere of the '30s, and... I still have requests for these pictures and sell them prints, the Photographer's Gallery especially, and one of their best sellers mainly with pictures from Charing Cross Road. I am getting fed up with them. They... they always choose the same pictures, and I've got thousands other pictures, and you should see the ones that got away on my travels.
Born in Austria, Wolfgang Suschitzky (1912-2016) trained as a photographer and became one of the first in his field to take portraits of animals. After coming to England he worked with Paul Rotha as the cameraman on various documentaries and films such as "No Resting Place", "Ulysses" and "Get Carter".
Title: The Charing Cross Road photographs
Listeners: Misha Donat
Misha Donat is the son of Wolfgang Suschitzky. He has composed music for the theatre and the cinema (including films directed by Lindsay Anderson, and by Albert Finney). For more than 25 years he was a senior music producer for BBC Radio 3, where he planned and produced the prestigious lunchtime concerts at St John's, Smith Square, at which many of the world's leading artists appeared on a regular basis, and also instigated a Young Artists' Forum as a showcase for musicians of the coming generation. As a broadcaster himself, he has given many radio talks. Misha Donat has contributed a large number of programme notes to the Wigmore Hall, Carnegie Hall, South Bank, Aldeburgh Festival, Edinburgh Festival, Brighton Festival and other venues, and he has written CD booklets for such labels as Decca, DG, RCA, Philips and Hyperion. He has been a regular contributor to BBC Music Magazine since its inception more than 10 years ago, and has written articles for The London Review of Books, The Guardian, The Musical Times, The Listener, Opera, and other publications. He has taught at the University of California in Los Angeles, and has given lectures and seminars at Vassar College and Bard College in New York State, Johns Hopkins University (Baltimore), and in the UK at Durham University, the Barbican Centre, the Royal Festival Hall, and the Norwich Music festival. He is currently working as a producer for the Philharmonia Orchestra.
Tags: England, Hatton Gardens, Charing Cross, Soho, Peter de Mendelssohn
Duration: 4 minutes, 9 seconds
Date story recorded: March 2008
Date story went live: 06 August 2009