NEXT STORY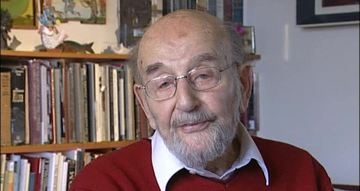 Making a documentary in Scotland
Worzel Gummidge and the differences between film and TV
Wolfgang Suschitzky
Film-maker
1
2
3
4
I haven't talked about another series I was engaged on for two or three summers, called Worzel Gummidge. It was a series for children shot in Hampshire in beautiful country. It's about a scarecrow which comes to life when two children talk to it and they make friends with that character. The stories were written by... very well by two famous writers, whose name I can't remember at the moment. It won't be on there. No. Anyway, they were lovely stories, and we had a very good time filming it, and we had good extras and good actors on it. Una Stubbs was Aunt Sally in it, and John Pertwee was the scarecrow, and two litt... the two children, one of them became an actress, but I believe she died recently. She was a very good actress, and the boy I think became a curator at the Fitzwilliam Museum which has a wonderful collection in...
What's the difference between working for TV and films?
When I worked for television, I continued working as if I worked on films. It's a very similar medium which needs lighting as well as film does. I did a lot of commercials, hundreds of them, and I am still living on it, on the savings I made, I managed to make, on commercials. I never got paid much on films because they weren't big productions. On documentary films they always said, and it was true, that the films don't make money in the cinemas, so they had to tender for the film and had to keep it as low cost as possible, and the technicians didn't get much money. But somehow the... my family managed to survive quite well. We had some good holidays together. I couldn't afford a proper car so I had to buy a van because it was without tax in those days, and we took a van to the continent and the children sitting in the back, and on occasion had to push when the engine conked out, and resented it that I should sit in the car and they had to push, which was quite a natural thing for them to do.
Born in Austria, Wolfgang Suschitzky (1912-2016) trained as a photographer and became one of the first in his field to take portraits of animals. After coming to England he worked with Paul Rotha as the cameraman on various documentaries and films such as "No Resting Place", "Ulysses" and "Get Carter".
Title: "Worzel Gummidge" and the differences between film and TV
Listeners: Misha Donat
Misha Donat is the son of Wolfgang Suschitzky. He has composed music for the theatre and the cinema (including films directed by Lindsay Anderson, and by Albert Finney). For more than 25 years he was a senior music producer for BBC Radio 3, where he planned and produced the prestigious lunchtime concerts at St John's, Smith Square, at which many of the world's leading artists appeared on a regular basis, and also instigated a Young Artists' Forum as a showcase for musicians of the coming generation. As a broadcaster himself, he has given many radio talks. Misha Donat has contributed a large number of programme notes to the Wigmore Hall, Carnegie Hall, South Bank, Aldeburgh Festival, Edinburgh Festival, Brighton Festival and other venues, and he has written CD booklets for such labels as Decca, DG, RCA, Philips and Hyperion. He has been a regular contributor to BBC Music Magazine since its inception more than 10 years ago, and has written articles for The London Review of Books, The Guardian, The Musical Times, The Listener, Opera, and other publications. He has taught at the University of California in Los Angeles, and has given lectures and seminars at Vassar College and Bard College in New York State, Johns Hopkins University (Baltimore), and in the UK at Durham University, the Barbican Centre, the Royal Festival Hall, and the Norwich Music festival. He is currently working as a producer for the Philharmonia Orchestra.
Tags: Worzel Gummidge, Hampshire, Fitzwilliam Museum, Una Stubbs, John Pertwee
Duration: 3 minutes, 52 seconds
Date story recorded: March 2008
Date story went live: 06 August 2009