NEXT STORY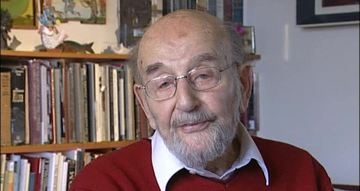 The Bridge (Part 1)
Making a documentary in Scotland
Wolfgang Suschitzky
Film-maker
1
2
3
4
The documentary movement in the '30s was a very progressive movement. They showed up terrible living conditions. The first film I made was about delinquent children in Scotland called Children of the City, and I had never seen slums like that. In Dundee we filmed in a large tenement building ten floors high, and there was one lavatory on each floor, and about four or five families lived on each floor, and one tap — one cold tap – I could see on the... on the landing, on the balcony outside. And the stink of the lavatory was terrible, and the people were very, very poor, a lot of unemployment. The children were of course not delinquent children but chosen for their acting capability. It was the first film for Budge Cooper who was one of Rotha's people and married to Donald Alexander later on, who headed our cooperative when they split up from Rotha. And she was very anxious, and I didn't have much experience. It was my first film as a proper cameraman, but I didn't know the grammar of film, and she was worried when somebody goes around the corner, which way should they look and so on, and had to phone Donald Alexander in London to find out how it's done. But it turned out well, and it's still at recent — not so recent — some years ago I had an exhibition in Edinburgh of photographs, and it happens that they could curtain off part of the hall where it was... where the exhibition was placed, and they showed this film there. It was very well attended, the exhibition, because it was on the way to a very popular cafeteria this museum... this gallery had. It was the Scottish National Portrait Gallery. So they had to walk through my exhibition to go to the... to the cafeteria, and a lot of people working around the museum were very interested to have a look at it before lunch or after.
Anyway, after the opening of the exhibition when they had shown the film and the photographs, three women came up to me and said... well, one of them said: 'I was the wife of one of these boys you showed in the film, and these are his two daughters'. And she had a photograph I had given the boy at the end of the film, or sent it to him, of just his portrait, so I was very glad to meet them, and the boy wasn't alive anymore, unfortunately, and sent them more prints to give to relatives. It's nice if something like that happens after so many years. On the Charing Cross Road series, I photographed a knife grinder, and many years later I had a letter from America that she had seen my little book on Charing Cross Road, and the man pictured as the knife grinder was her father, could I send her a print, which of course I did. He had an Italian name, or she had an Italian name. She may be married to an Italian, I don't know. Well, it's nice if things like that happen, and I often meet people who say: Oh, you photographed me when I was a child'. That is nice if you get old if you find you have some connection with people in the past.
Born in Austria, Wolfgang Suschitzky (1912-2016) trained as a photographer and became one of the first in his field to take portraits of animals. After coming to England he worked with Paul Rotha as the cameraman on various documentaries and films such as "No Resting Place", "Ulysses" and "Get Carter".
Title: Making a documentary in Scotland
Listeners: Misha Donat
Misha Donat is the son of Wolfgang Suschitzky. He has composed music for the theatre and the cinema (including films directed by Lindsay Anderson, and by Albert Finney). For more than 25 years he was a senior music producer for BBC Radio 3, where he planned and produced the prestigious lunchtime concerts at St John's, Smith Square, at which many of the world's leading artists appeared on a regular basis, and also instigated a Young Artists' Forum as a showcase for musicians of the coming generation. As a broadcaster himself, he has given many radio talks. Misha Donat has contributed a large number of programme notes to the Wigmore Hall, Carnegie Hall, South Bank, Aldeburgh Festival, Edinburgh Festival, Brighton Festival and other venues, and he has written CD booklets for such labels as Decca, DG, RCA, Philips and Hyperion. He has been a regular contributor to BBC Music Magazine since its inception more than 10 years ago, and has written articles for The London Review of Books, The Guardian, The Musical Times, The Listener, Opera, and other publications. He has taught at the University of California in Los Angeles, and has given lectures and seminars at Vassar College and Bard College in New York State, Johns Hopkins University (Baltimore), and in the UK at Durham University, the Barbican Centre, the Royal Festival Hall, and the Norwich Music festival. He is currently working as a producer for the Philharmonia Orchestra.
Tags: Scotland, Children of the City, Dundee, London, Scottish National Portrait Gallery, Charing Cross, Budge Cooper, Paul Rotha, Donald Alexander
Duration: 5 minutes, 42 seconds
Date story recorded: March 2008
Date story went live: 06 August 2009