NEXT STORY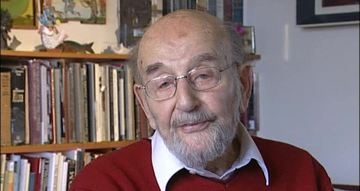 The situation in Austria and my father's suicide
Studying photography and moving to London
Wolfgang Suschitzky
Film-maker
1
2
3
4
When I had finished school, my sister influenced me, I believe. She had done a year at The Bauhaus in Dessau and done some photography. My real interest was zoology, but I realised I couldn't earn a living in Austria with zoology, so I went to photographic school, the only one in Austria — in Vienna — and did three years there, but didn't do much photography. It was mainly learning how to retouch and how to do all sorts of arty printing like bromoil and carbro and so on. But we did learn some optics and chemistry and how to do a decent print, so it wasn't all lost. By that time, the Red Vienna had disappeared, more or less. It was a social democratic town, and the right wing Christian Socialists — they called themselves — took over, and the situation became very bad. We had our own kind of fascism in Austria called Austrofascism. Parliament was dissolved, trade unions were forbidden, trade unionists were imprisoned. So, I thought there is no future for me in Austria. I had met a Dutch girl in my class at the photographic school and we decided to go to England where my sister by that time had established herself, married to an English doctor called Tudor-Hart. Her name was Edith Tudor-Hart, and she was a very good photographer.
Born in Austria, Wolfgang Suschitzky (1912-2016) trained as a photographer and became one of the first in his field to take portraits of animals. After coming to England he worked with Paul Rotha as the cameraman on various documentaries and films such as "No Resting Place", "Ulysses" and "Get Carter".
Title: Studying photography and moving to London
Listeners: Misha Donat
Misha Donat is the son of Wolfgang Suschitzky. He has composed music for the theatre and the cinema (including films directed by Lindsay Anderson, and by Albert Finney). For more than 25 years he was a senior music producer for BBC Radio 3, where he planned and produced the prestigious lunchtime concerts at St John's, Smith Square, at which many of the world's leading artists appeared on a regular basis, and also instigated a Young Artists' Forum as a showcase for musicians of the coming generation. As a broadcaster himself, he has given many radio talks. Misha Donat has contributed a large number of programme notes to the Wigmore Hall, Carnegie Hall, South Bank, Aldeburgh Festival, Edinburgh Festival, Brighton Festival and other venues, and he has written CD booklets for such labels as Decca, DG, RCA, Philips and Hyperion. He has been a regular contributor to BBC Music Magazine since its inception more than 10 years ago, and has written articles for The London Review of Books, The Guardian, The Musical Times, The Listener, Opera, and other publications. He has taught at the University of California in Los Angeles, and has given lectures and seminars at Vassar College and Bard College in New York State, Johns Hopkins University (Baltimore), and in the UK at Durham University, the Barbican Centre, the Royal Festival Hall, and the Norwich Music festival. He is currently working as a producer for the Philharmonia Orchestra.
Tags: The Bauhaus Dessau, Austria, Vienna, England, Edith Tudor-Hart
Duration: 2 minutes, 36 seconds
Date story recorded: March 2008
Date story went live: 06 August 2009