NEXT STORY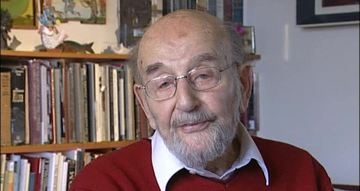 Filming notable individuals
People I have photographed
Wolfgang Suschitzky
Film-maker
1
2
3
4
I had the good luck to meet interesting people in my job... interesting interviews. The Americans did a series called Wisdom Series — NBC — which first I filmed Sean O'Casey. They brought over Barry Fitzgerald who was the first Joxer in The Plough and the Stars. And they hadn't seen each other for 20 years, and embraced. And it was so moving seeing... how pleased they were to see each other after all this time. And that is how I got to know Sean O'Casey. I had other... another opportunity. Rotha made a film about the Abbey Theatre in Dublin. We filmed it in the ruined Dublin theatre, because it had burnt down at one time, and a new one was being built opposite almost. Anyway, O'Casey was very nice, and his wife was very nice. We got to know each other very well, and his children. He had three children. Lost one unfortunately through leukaemia, which broke his heart. And Eileen O'Casey was a very good hostess, looked after us, and I kept up the friendship, went to photograph him several times. There's a nice picture of my daughter sitting on the lap of O'Casey, when she was about 12 maybe. Well, he was one... certainly one of the highlights of my career, to get to know him. In 1939 I was asked by a weekly journal, a rival to Picture Post, called Illustrated, to photograph... photograph H.G. Wells in his home overlooking Regent's Park. And he was very willing to be photographed, and very nice to us. I went with a journalist who then wrote the story in the journal. He even made a suggestion I should photograph his hands with the script, which I did. And we spent the whole morning in his house, and on his balcony, and on the street even. He was very obliging. Other important people I came across was Fleming the discovery... discoverer of penicillin, Alexander Fleming; he wasn't a Sir yet. We made a film about penicillin, and the group of people who developed it made it possible that it was produced on a... a large scale. The people involved were Chain — Dr Chain — who was an outstanding chemist — and I think he shared the Nobel Prize — and the Oxford five people who analysed penicillin. And I was able to take a group of the five in the professor's office, which is now in the National Portrait Gallery among other things I have taken.
Born in Austria, Wolfgang Suschitzky (1912-2016) trained as a photographer and became one of the first in his field to take portraits of animals. After coming to England he worked with Paul Rotha as the cameraman on various documentaries and films such as "No Resting Place", "Ulysses" and "Get Carter".
Title: People I have photographed
Listeners: Misha Donat
Misha Donat is the son of Wolfgang Suschitzky. He has composed music for the theatre and the cinema (including films directed by Lindsay Anderson, and by Albert Finney). For more than 25 years he was a senior music producer for BBC Radio 3, where he planned and produced the prestigious lunchtime concerts at St John's, Smith Square, at which many of the world's leading artists appeared on a regular basis, and also instigated a Young Artists' Forum as a showcase for musicians of the coming generation. As a broadcaster himself, he has given many radio talks. Misha Donat has contributed a large number of programme notes to the Wigmore Hall, Carnegie Hall, South Bank, Aldeburgh Festival, Edinburgh Festival, Brighton Festival and other venues, and he has written CD booklets for such labels as Decca, DG, RCA, Philips and Hyperion. He has been a regular contributor to BBC Music Magazine since its inception more than 10 years ago, and has written articles for The London Review of Books, The Guardian, The Musical Times, The Listener, Opera, and other publications. He has taught at the University of California in Los Angeles, and has given lectures and seminars at Vassar College and Bard College in New York State, Johns Hopkins University (Baltimore), and in the UK at Durham University, the Barbican Centre, the Royal Festival Hall, and the Norwich Music festival. He is currently working as a producer for the Philharmonia Orchestra.
Tags: Wisdom Series, The Plough and the Stars, Abbey Theatre Dublin, Picture Post, Sean O'Casey, Barry Fitzgerald, Paul Rotha, HG Wells, Alexander Fleming
Duration: 4 minutes, 39 seconds
Date story recorded: March 2008
Date story went live: 06 August 2009