NEXT STORY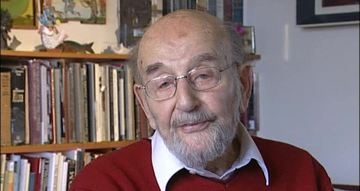 Working at the zoo and Guy the gorilla
Filming notable individuals
Wolfgang Suschitzky
Film-maker
1
2
3
4
Professor Chain told me that he really wanted to be a pianist and not a chemist, but had to leave his study as the Nazis took over and came here. That was an important meeting I had and when I was ill in the hospital, St Mary's Hospital, where Fleming had his laboratory, they were all impressed that I had shaken Fleming's hand. Other important people were Nehru in his garden in... in Delhi. Mrs Ghandi was his daughter and... was his hostess who took care of us. The interviewer was the former ambassador — American ambassador — in Delhi who became a good friend of Nehru's, and he came back from America to do this interview for the NBC. Nehru had a couple of red pandas in his garden in a cage... in a cage. They... lovely little brown things and he told us that he sends them up to Shimla in the summer when it's too hot in Delhi, because they are really mountain animals and don't like the heat. And... then when we did a film on South East Asia; I met several heads of state, the president of India Professor Radha Krishnan, and Sukarno the head of the Indonesian Republic. That was one of the first things I did for NBC. Sukarno kept us waiting for about three quarters of an hour because he wanted to play with his children. And then he told us that the only thing they learned really from the West was military, how to conduct a war, and not how to create industries. And there he was sitting in a general's uniform, giving this interview. Another one was Burma, U Nu was his name. That was before the military took over Burma. I went there another time with... with Harry Watt to make a short film for the World Health Organisation. We stayed in Mandalay and that was the really end of the world, as far as I'm concerned. I shared a room with Harry, and there was only a commode for the two of us. And there was a night watchman circling the house, and terribly coughing and spitting all night. They're great spitters there. Even in restaurants they spit on the floor — in those days. I've worked on other projects with Harry, who was a lovely man to work with. He was very enthusiastic in what he was doing. If you remember he contributed a lot to Night Mail, one of the chief... chief people who worked on it among other things. Of course he did some very good features too, in Australia a couple, and here. Other famous people, there was the president of the Czech Republic in exile here. That was Beneš who later went back, but didn't survive very long. Who else? There is a quite a lot, Horder for instance, who was a medical officer at the Ministry of Health here, quite a number of important people I met, but you can't talk much to them. You just shook hands and... disappeared behind your camera.
Born in Austria, Wolfgang Suschitzky (1912-2016) trained as a photographer and became one of the first in his field to take portraits of animals. After coming to England he worked with Paul Rotha as the cameraman on various documentaries and films such as "No Resting Place", "Ulysses" and "Get Carter".
Title: Filming notable individuals
Listeners: Misha Donat
Misha Donat is the son of Wolfgang Suschitzky. He has composed music for the theatre and the cinema (including films directed by Lindsay Anderson, and by Albert Finney). For more than 25 years he was a senior music producer for BBC Radio 3, where he planned and produced the prestigious lunchtime concerts at St John's, Smith Square, at which many of the world's leading artists appeared on a regular basis, and also instigated a Young Artists' Forum as a showcase for musicians of the coming generation. As a broadcaster himself, he has given many radio talks. Misha Donat has contributed a large number of programme notes to the Wigmore Hall, Carnegie Hall, South Bank, Aldeburgh Festival, Edinburgh Festival, Brighton Festival and other venues, and he has written CD booklets for such labels as Decca, DG, RCA, Philips and Hyperion. He has been a regular contributor to BBC Music Magazine since its inception more than 10 years ago, and has written articles for The London Review of Books, The Guardian, The Musical Times, The Listener, Opera, and other publications. He has taught at the University of California in Los Angeles, and has given lectures and seminars at Vassar College and Bard College in New York State, Johns Hopkins University (Baltimore), and in the UK at Durham University, the Barbican Centre, the Royal Festival Hall, and the Norwich Music festival. He is currently working as a producer for the Philharmonia Orchestra.
Tags: Delhi, Burma, Mandalay, Alexander Fleming, Jawaharlal Nehru, Indira Gandhi, Radha Krishnan, Sukarno, Harry Watt, Edvard Beneš
Duration: 5 minutes, 37 seconds
Date story recorded: March 2008
Date story went live: 06 August 2009