NEXT STORY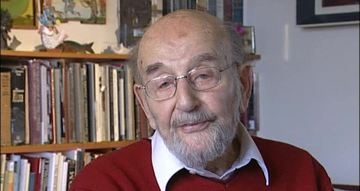 Gerald Durrell
Working at the zoo and Guy the gorilla
Wolfgang Suschitzky
Film-maker
1
2
3
4
When I was filming at the zoo in London and in Whipsnade we made friends with some of the keepers who helped us to get our cameras in a favourable position. And one of them was the keeper of apes and monkeys — head keeper — and his star was Guy the gorilla at the London Zoo. I went to take some photographs and he kindly let me go across the barrier to put my lens through the bars. He had to be near with an iron bar, just in case he goes for me, because he could reach out two or three ft between those iron bars. But he was very peaceful. He just sat there and I took my pictures, and when I ran out of film I said, 'Oh, I must change my film in my Hasselblad'. And he said, 'Okay, I'll go and get some more grapes', because he was throwing grapes to him to keep him in the background there. And this iron bar he had, had a hook on the end, and he hooked it on the fence. And while I was reloading my camera Guy came slowly and lifted it up gently, that iron bar, and took it into the cage. Now, he could have done a lot of damage with it. There was a glass plate behind him and he just... but he just put it gently down in front of him. When the keeper came back he noticed that and said to him, 'Give me that back'. No answer... no gesture. 'Give me that back', he said. And Guy goes and picks up a little bit of paper which was next to the bar and brought it to the keeper, and went back again. 'Give me that back', again nothing, but the fourth time he did pick it up and gave it to the keeper without any trouble. He was a great character.
Then it was printed in the Sunday Times, a half page. It was a huge correspondence wasn't it?
It was... it still is quite a...quite a favourable picture. Virginia McKenna used it in a book against zoos. She and her son had a movement against zoos, and it was used in many papers and books. It's just a shadow of the bars on his face.
At Whipsnade we went into the fields with animals, and the only time we almost got into trouble was with kangaroos. They started chasing us and we just made it to the fence, and across, the head keeper and I. He was a lovely man, the head keeper, Mr Bates. Unfortunately no longer with us. So I've been a zookeeper since 1937 really, and in the early days we got on very well with keepers, and they were obliging. They got a few shillings from us, which they badly needed. Those wages were rather bad, which it has improved, of course, a lot.
Born in Austria, Wolfgang Suschitzky (1912-2016) trained as a photographer and became one of the first in his field to take portraits of animals. After coming to England he worked with Paul Rotha as the cameraman on various documentaries and films such as "No Resting Place", "Ulysses" and "Get Carter".
Title: Working at the zoo and Guy the gorilla
Listeners: Misha Donat
Misha Donat is the son of Wolfgang Suschitzky. He has composed music for the theatre and the cinema (including films directed by Lindsay Anderson, and by Albert Finney). For more than 25 years he was a senior music producer for BBC Radio 3, where he planned and produced the prestigious lunchtime concerts at St John's, Smith Square, at which many of the world's leading artists appeared on a regular basis, and also instigated a Young Artists' Forum as a showcase for musicians of the coming generation. As a broadcaster himself, he has given many radio talks. Misha Donat has contributed a large number of programme notes to the Wigmore Hall, Carnegie Hall, South Bank, Aldeburgh Festival, Edinburgh Festival, Brighton Festival and other venues, and he has written CD booklets for such labels as Decca, DG, RCA, Philips and Hyperion. He has been a regular contributor to BBC Music Magazine since its inception more than 10 years ago, and has written articles for The London Review of Books, The Guardian, The Musical Times, The Listener, Opera, and other publications. He has taught at the University of California in Los Angeles, and has given lectures and seminars at Vassar College and Bard College in New York State, Johns Hopkins University (Baltimore), and in the UK at Durham University, the Barbican Centre, the Royal Festival Hall, and the Norwich Music festival. He is currently working as a producer for the Philharmonia Orchestra.
Tags: London, Whipsnade, London Zoo, Hasselblad, Sunday Times, Guy the gorilla, Virginia McKenna
Duration: 4 minutes, 40 seconds
Date story recorded: March 2008
Date story went live: 06 August 2009