NEXT STORY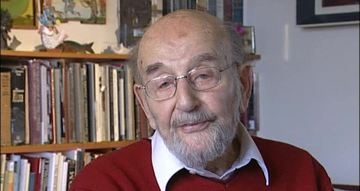 Work in the Caribbean
An interesting life and publishing my photography book
Wolfgang Suschitzky
Film-maker
1
2
3
4
Yes, I've had an interesting life, I must confess. Not only that, but I was very lucky, as I said before, to escape fascism in Austria, to survive two world wars, survived the Blitz in London, to meet a wonderful wife who brought up three wonderful children. And I was lucky to be able to travel over much of the world, Southeast Asia, the Caribbean, which I haven't mentioned in my talk, and much of Britain. And I got paid for it. So what better chances? But of course I was working hard and I couldn't take pictures whenever I wanted to. I couldn't stop the car when we were in a hurry to get somewhere, but you should have seen the ones that got away, the pictures. I did get quite a number of reasonably good ones, I hope. And if you have a chance to see my book you'll find a great variety. That was my trouble in getting a book started. I tried several publishers here in London, but they all said you haven't got a theme in your work. That's missing. But there... I came across these Viennese publishers who specialise in books about the cinema, and they liked my pictures very much. And they thought that it's the variety in my work which is the theme. And they managed to edit it, the hundreds of pictures to about 150, 160 pictures, and make a... a beautiful looking book, I think. There's a great variety of subjects and also the background to my taking the pictures, which I wrote at their request. It's in two languages, German and English. And I'm very pleased with it.
Born in Austria, Wolfgang Suschitzky (1912-2016) trained as a photographer and became one of the first in his field to take portraits of animals. After coming to England he worked with Paul Rotha as the cameraman on various documentaries and films such as "No Resting Place", "Ulysses" and "Get Carter".
Title: An interesting life and publishing my photography book
Listeners: Misha Donat
Misha Donat is the son of Wolfgang Suschitzky. He has composed music for the theatre and the cinema (including films directed by Lindsay Anderson, and by Albert Finney). For more than 25 years he was a senior music producer for BBC Radio 3, where he planned and produced the prestigious lunchtime concerts at St John's, Smith Square, at which many of the world's leading artists appeared on a regular basis, and also instigated a Young Artists' Forum as a showcase for musicians of the coming generation. As a broadcaster himself, he has given many radio talks. Misha Donat has contributed a large number of programme notes to the Wigmore Hall, Carnegie Hall, South Bank, Aldeburgh Festival, Edinburgh Festival, Brighton Festival and other venues, and he has written CD booklets for such labels as Decca, DG, RCA, Philips and Hyperion. He has been a regular contributor to BBC Music Magazine since its inception more than 10 years ago, and has written articles for The London Review of Books, The Guardian, The Musical Times, The Listener, Opera, and other publications. He has taught at the University of California in Los Angeles, and has given lectures and seminars at Vassar College and Bard College in New York State, Johns Hopkins University (Baltimore), and in the UK at Durham University, the Barbican Centre, the Royal Festival Hall, and the Norwich Music festival. He is currently working as a producer for the Philharmonia Orchestra.
Tags: Austria, the Blitz, Great Britain
Duration: 3 minutes, 4 seconds
Date story recorded: March 2008
Date story went live: 06 August 2009