NEXT STORY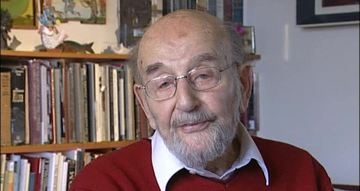 Early life in Vienna
Wolfgang Suschitzky
Film-maker
1
2
3
4
In the Caribbean I did several things. I did one time covering the test match, believe it or not. I knew nothing about cricket — still know nothing about cricket — but we were put on a hot tin roof and filmed in Trinidad, which is a fascinating island. And we went to several of the other islands where they played the test match, with the crew and everything. There were two of us. Two cameras so one could take close-ups and the other longer shot. The man who thought he had bought the sole rights for this test match soon found out that he had to let in others like Newsreels, also to take pictures of the same match. He was a singer of Caribbean folk music mainly, called Edric Conner. Very good looking man, bit of a... an actor, and through him we got to know his family there, his uncles and aunts, and nephews and so on, which was nice to get into the home of families locally. And I got some very nice portraits of one of his aunts and other people involved. People were very poor then in Trinidad. One time we stopped the car for some reason and a woman appeared knocking at the window, and said 'See this girl, would you please take her away to England, there's no future for her'. And of course we had to comfort her and say we... sorry we can't do that, it needs official permission, and so on. But that's how poor they were they wanted to part with a child because there was no future for it where they lived. But I had the good luck of seeing two carnivals in Trinidad, which is quite an experience. They last for three nights. Everybody is drunk all the time, but they work on their costumes all the year round, and they spend a lot of money on them. They make some really beautiful costumes, staggering really. And of course, they make their own tin drums for the music, which is also interesting to see how they make the instruments, how they tune them. They could play almost anything on them.
We went to a couple of universities in the West Indies, and I also on one occasion got to Guyana. It was British Guiana then. I think it was for the NBC. I can't quite remember what film it was for. But it's a very interesting country. The capital is built almost exclusively of wood, because they have this rainforest. The real country is only a strip near the coast, and the rest is rainforest. And we went to one of the biggest waterfalls. One of the highest waterfalls, not the biggest. I think it's 300m or something, the... the third highest waterfall, Kaieteur it was called. And going there we saw gold washers in the river. There was very little but they say they do occasionally find a little bit of gold in the river. Then the only other thing they had was aluminium oxide near the coast. We got to Jamaica. We got to Barbados and Trinidad.
Born in Austria, Wolfgang Suschitzky (1912-2016) trained as a photographer and became one of the first in his field to take portraits of animals. After coming to England he worked with Paul Rotha as the cameraman on various documentaries and films such as "No Resting Place", "Ulysses" and "Get Carter".
Title: Work in the Caribbean
Listeners: Misha Donat
Misha Donat is the son of Wolfgang Suschitzky. He has composed music for the theatre and the cinema (including films directed by Lindsay Anderson, and by Albert Finney). For more than 25 years he was a senior music producer for BBC Radio 3, where he planned and produced the prestigious lunchtime concerts at St John's, Smith Square, at which many of the world's leading artists appeared on a regular basis, and also instigated a Young Artists' Forum as a showcase for musicians of the coming generation. As a broadcaster himself, he has given many radio talks. Misha Donat has contributed a large number of programme notes to the Wigmore Hall, Carnegie Hall, South Bank, Aldeburgh Festival, Edinburgh Festival, Brighton Festival and other venues, and he has written CD booklets for such labels as Decca, DG, RCA, Philips and Hyperion. He has been a regular contributor to BBC Music Magazine since its inception more than 10 years ago, and has written articles for The London Review of Books, The Guardian, The Musical Times, The Listener, Opera, and other publications. He has taught at the University of California in Los Angeles, and has given lectures and seminars at Vassar College and Bard College in New York State, Johns Hopkins University (Baltimore), and in the UK at Durham University, the Barbican Centre, the Royal Festival Hall, and the Norwich Music festival. He is currently working as a producer for the Philharmonia Orchestra.
Tags: Caribbean, Trinidad, England, West Indies, Guyana, Jamaica, Barbados, Edric Conner
Duration: 5 minutes, 40 seconds
Date story recorded: March 2008
Date story went live: 06 August 2009