NEXT STORY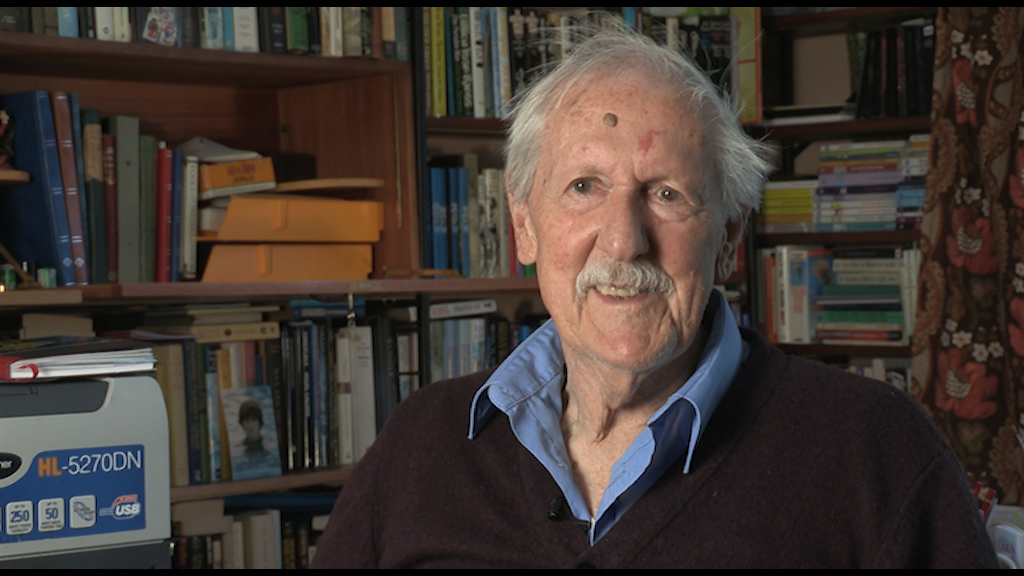 The biggest tree in the world
The most terrifying day of my life
1
2
3
4
5
...
8
Many things you might think... many things we might have thought, but we had no communication really with the outside world.
I suppose we heard about Hiroshima, but of course, that was American. And so communications probably weren't all that good. Nevertheless, it was the Americans that supported us all the way along. I mean, at one time they flew us out of the jungles of Burma.
Oh, God... and that was a nightmare, because there were three of us stationed in the midst of Burma – God knows why or where – and there was a great forest to the south of us, and it had caught fire and it was burning and with the wind to help us, it was burning very fast. And moreover, there were two strands of wood, of forest, with a gap in between. I guess that in peaceful days that had been a landing strip, but now it was full of weed about knee-high. And so, these great belts of flame were coming up the hill towards us, and the two chaps I was with gave up and said, 'Well this is it, we're finished. Let's just stay here'.
But I had another idea, I said, 'Look, let's go and stand in the middle of this landing strip, okay? We should be okay there'. And they said, 'But that's on fire, too'. And it was true that the vegetation and the weeds were there naturally, they caught fire from this tremendous holocaust on either side. Have I ever been more terrified than I was then? I don't think so. But nevertheless, I did have my wits about me, and I said, 'Look guys, let's stand in the middle here. Yes, okay, these things are on fire, but it dies out, you know. We can step over these flames, and it's all ashes. It will be okay'. And so they did that, and we stood there while this vast conflagration roared up to us, and roared past so that the trees were left as stumps. And of course, we were a bit scorched, but we were okay. We lived. We fucking well lived by my initiative!
So then, we tramped up to the top of the hill, and there a Dakota landed that was going to take us… it was going to take us to Chittagong, actually, in India. And it had an American pilot, and so he directed the three of us to get into the back of the Dakota and off we flew. And we could see – looking back – we could see the scars of this terrible conflagration.
So, anyhow, eventually we got to Chittagong. We landed on a little landing strip, and the pilot, a very friendly guy, came back and let us out, and he said, 'Did none of you guys throw up?' And we said, 'We've had nothing to eat for two days'. He says, 'If you had been Americans, you would all have thrown up'. You know, but you had something to eat, didn't you? So he shut up then. But it was true that we'd nothing to eat for two days. Bloody hell! When I think of those days, I mean, well... But of course, you took it for granted, you know, you were still alive.
Brian Aldiss (1925-2017) was an English writer and anthologies editor, best known for his science fiction novels and short stories. He was educated at Framlingham College, Suffolk, and West Buckland School, Devon, and served in the Royal Signals between 1943-1947. After leaving the army, Aldiss worked as a bookseller in Oxford, an experience which provided the setting for his first book, 'The Brightfount Diaries' (1955). His first science fiction novel, 'Non-Stop', was published in 1958 while he was working as literary editor of the 'Oxford Mail'. His many prize-winning science fiction titles include 'Hothouse' (1962), which won the Hugo Award, 'The Saliva Tree' (1966), which was awarded the Nebula, and 'Helliconia Spring' (1982), which won both the British Science Fiction Association Award and the John W Campbell Memorial Award. Several of his books have been adapted for the cinema. His story, 'Supertoys Last All Summer Long', was adapted and released as the film 'AI' in 2001. His book 'Jocasta' (2005), is a reworking of Sophocles' classic Theban plays, 'Oedipus Rex' and 'Antigone'.
Title: The most terrifying day of my life
Listeners: Christopher Sykes
Christopher Sykes is an independent documentary producer who has made a number of films about science and scientists for BBC TV, Channel Four, and PBS.
Tags: Hiroshima
Duration: 4 minutes, 50 seconds
Date story recorded: September 2014
Date story went live: 17 August 2015