NEXT STORY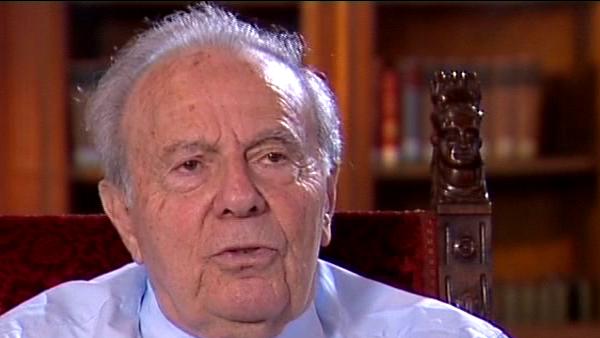 Return to Paris
The injury that ended my career as a surgeon
1
2
3
4
5
...
8
It's when we were going south to bypass Avranches and cut the Germans off, they did a north south counter-attack and I was injured in a plane bombing that accompanied that counter-attack. And I was knocked out, I picked up 50-60 grenade fragments.
[Q] Can you remind us of the circumstances that accompanied that injury?
The circumstances, well... we were... we were heading for the south precisely to try and bypass the Germans that were there and then go back up with Patton. There had been a German offensive trying to cut us off, and in particular a plane bombing. There was... the planes arrived a first time, and I had a friend, a very good friend that was seriously injured. So I went to take care of him. That's when the planes came back. Everybody hid in holes, and he was unfit to travel. So the planes arrived. He said to me, 'Don't leave me'. I didn't leave him and he got killed there and then, as for me, I was seriously injured. I didn't leave him.
[Q] And unfortunately he died soon after.
Yes, he died next to me in the hospital.
[Q] And then starts a year-long period where you will be...
Oh yes, dreadful, dreadful. With constant operations, patches, this and that. A really dreadful time. I even... even once I got out of the hospital, I was operated again I don't know how many times because I had fragments that were weeping here and there. It took me a long time before I could... My elbow had burst out. My thigh was broken, the entire right side was filled with fragments. And it took me a long time to recover. It was very long and painful.
C'est au moment où on descendait pour contourner Avranches et couper les Allemands, ils ont fait une contre-attaque nord-sud et j'ai été blessé dans un bombardement d'avions qui accompagnait cette contre-attaque. Et là j'ai été sonné, j'ai ramassé 50-60 éclats de grenade.
[Q] Est-ce que vous pouvez redire les circonstances de cette blessure?
Ben, les circonstances... on était... On faisait mouvement justement vers le sud pour essayer de contourner la poche allemande qui était là et remonter avec Patton. Et il y a eu une attaque allemande pour essayer de nous couper, et en particulier un bombardement d'avions. Alors il y a eu... Les avions sont venus une première fois, et j'ai eu un copain qui a été, un très bon copain, qui a été grièvement blessé. Alors, j'ai été m'occuper de lui. A ce moment-là, les avions sont revenus. Alors tout le monde était dans des trous, et lui était intransportable. Et alors les avions sont arrivés. Il m'a dit, 'Ne me laisse pas'. Je ne l'ai pas laissé et lui a été tué là, et moi, j'ai été très grièvement blessé. Je ne l'ai pas laissé.
[Q] Et il est mort malheureusement peu de temps après.
Il est mort à l'hôpital à côté de moi, oui.
[Q] Et là, commence une période de presque un an où vous allez être...
Ah, oui, là, terrible, terrible. Avec des opérations tout le temps, des planques, des trucs, des machins. Très mauvaise période. J'ai même, même une fois sorti de l'hôpital, j'ai été réopéré je ne sais combien de fois parce que j'avais des éclats qui suppuraient par ci par là. J'ai mis très longtemps avant de... J'avais le coude qui avait explosé. J'avais la cuisse cassée, tout le côté droit farci d'éclats. Et là il m'a fallu beaucoup de temps pour récupérer. Ça a été très long et pénible.
François Jacob (1920-2013) was a French biochemist whose work has led to advances in the understanding of the ways in which genes are controlled. In 1965 he was awarded the Nobel Prize in Physiology or Medicine, together with Jacque Monod and André Lwoff, for his contribution to the field of biochemistry. His later work included studies on gene control and on embryogenesis. Besides the Nobel Prize, he also received the Lewis Thomas Prize for Writing about Science for 1996 and was elected a member of the French Academy in 1996.
Title: The injury that ended my career as a surgeon
Listeners: Michel Morange
Michel Morange est généticien et professeur à L'Université Paris VI ainsi qu'à l'Ecole Normale Supérieure où il dirige le Centre Cavaillès d'Histoire et de Philosophie des Sciences. Après l'obtention d'une license en Biochimie ainsi que de deux Doctorats, l'un en Biochimie, l'autre en Histoire et Philosophie des Sciences, il rejoint le laboratoire de Génétique Moléculaire dirigé par le Professeur François Jacob à l'Institut Pasteur. Ses principaux travaux de recherche se sont portés sur l'Histoire de la Biologie au XXème siècle, la naissance et le développement de la Biologie Moléculaire, ses transformations récentes et ses interactions avec les autres disciplines biologiques. Auteur de "La Part des Gènes" ainsi que de "Histoire de la Biologie Moléculaire", il est spécialiste de la structure, de la fonction et de l'ingénerie des protéines.
Michel Morange is a professor of Biology and Director of the Centre Cavaillès of History and Philosophy of Science at the Ecole Normale Supérieure. After having obtained a Bachelor in biochemistry and two PhDs, one in Biochemistry, the other in History and Philosophy of Science, he went on to join the research unit of Molecular Genetics headed by François Jacob, in the Department of Molecular Biology at the Pasteur Institute, Paris. Together with Olivier Bensaude, he discovered that Heat Shock Proteins are specifically expressed on the onset of the mouse zygotic genome activation. Since then he has been working on the properties of Heat Shock Proteins, their role in aggregation and on the regulation of expression of these proteins during mouse embryogenesis. He is the author of 'A History of Molecular Biology' and 'The Misunderstood Gene'.
Tags: George Smith Patton
Duration: 2 minutes, 6 seconds
Date story recorded: October 2004
Date story went live: 24 January 2008