NEXT STORY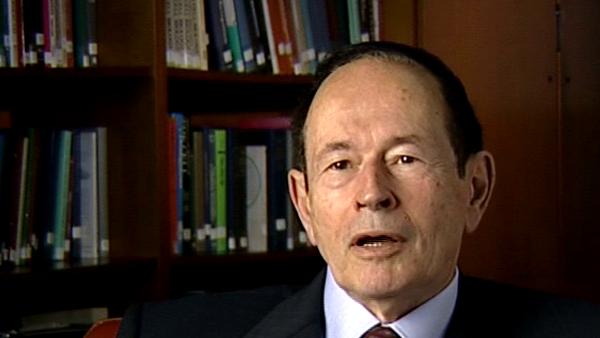 'In my end is my beginning': Back to antibodies
Our laboratory as a chicken farm
1
2
3
4
5
...
9
I was searching for a cell adhesion molecule, and I remember working with a Chinese post-doctoral student who never wrote anything in his notebooks but scribbled things on post-its and threw them around the lab – that was the striking set of events. And we had devised a sort of assay: how would we find out how one molecule was responsible for sticking one cell together with another? What we decided to do is make an antibody against the surface antibodies, against the surface molecules of a cell, and then search for fractions from the cell that would inhibit the antibody, and that must have been the one that blocked the... the adhesion molecule. Well, for a year and a half it was a totally vain search, and then one day, the serum from a set of an animal that was the worst possible protocol you could ever use which would have been thrown out of a grant right away – that one came out positive, and we discovered the neural cell adhesion molecule which linked all the cells of the retina together from chicks... from chick embryos. At that point an explosion occurred in our lab, by the way. We would have a thousand chick embryos, lots of eggs, so the whole place looked like a chicken farm... I mean, no, the early part of a chicken farm. I guess in a chicken farm you don't do that: if the egg has an embryo you throw it out. But whatever is the case. We got very, very excited and we found this molecule.
Now, I have to stop and tell you another story. I was invited to go to the University of Rochester to talk about this. That often happens, you know; in those days it happened when you had some announcement of some singularity and I'd just published our first paper. And I got up and I said, 'Okay, this is going to be about cell adhesion molecules and the molecular structure of one which I think opens up a whole new vista, but this really isn't as important as the first work in the field, which was done by a very great embryologist, Holtfreter, who's dead now and no longer with us, but he showed that you could pull apart all the three germ layers of an early embryo, stir them up, and they'd recombine in such a way that you get the layers back again... an incredible experiment.' And then I went on and I gave my lecture about how it's mediated by this NCAM, the Neural Cell Adhesion Molecule. At the end of the lecture an old man who was partially blind came up to me and said, 'I'm Holtfreter.' And I said, 'Well, sir...' I tried to mitigate my error. I said. 'All great men are dead aren't they?' And we became friends and we talked about... he told me about his experience.
US biologist Gerald Edelman (1929-2014) successfully constructed a precise model of an antibody, a protein used by the body to neutralise harmful bacteria or viruses and it was this work that won him the Nobel Prize in Physiology or Medicine in 1972 jointly with Rodney R Porter. He then turned his attention to neuroscience, focusing on neural Darwinism, an influential theory of brain function.
Title: Our laboratory as a chicken farm
Listeners: Ralph J. Greenspan
Dr. Greenspan has worked on the genetic and neurobiological basis of behavior in fruit flies (Drosophila melanogaster) almost since the inception of the field, studying with one of its founders, Jeffery Hall, at Brandeis University in Massachusetts, where he received his Ph.D. in biology in 1979. He subsequently taught and conducted research at Princeton University and New York University where he ran the W.M. Keck Laboratory of Molecular Neurobiology, relocating to San Diego in 1997 to become a Senior Fellow in Experimental Neurobiology at The Neurosciences Institute. Dr. Greenspan's research accomplishments include studies of physiological and behavioral consequences of mutations in a neurotransmitter system affecting one of the brain's principal chemical signals, studies making highly localized genetic alterations in the nervous system to alter behavior, molecular identification of genes causing naturally occurring variation in behavior, and the demonstration that the fly has sleep-like and attention-like behavior similar to that of mammals. Dr. Greenspan has been awarded fellowships from the Helen Hay Whitney Foundation, the Searle Scholars Program, the McKnight Foundation, the Sloan Foundation and the Klingenstein Foundation. In addition to authoring research papers in journals such as "Science", "Nature", "Cell", "Neuron", and "Current Biology", he is also author of an article on the subject of genes and behavior for "Scientific American" and several books, including "Genetic Neurobiology" with Jeffrey Hall and William Harris, "Flexibility and Constraint in Behavioral Systems" with C.P. Kyriacou, and "Fly Pushing: The Theory and Practice of Drosophila Genetics", which has become a standard work in all fruit fly laboratories.
Tags: Neural Cell Adhesion Molecule, Johannes Holtfreter
Duration: 2 minutes, 35 seconds
Date story recorded: July 2005
Date story went live: 24 January 2008