NEXT STORY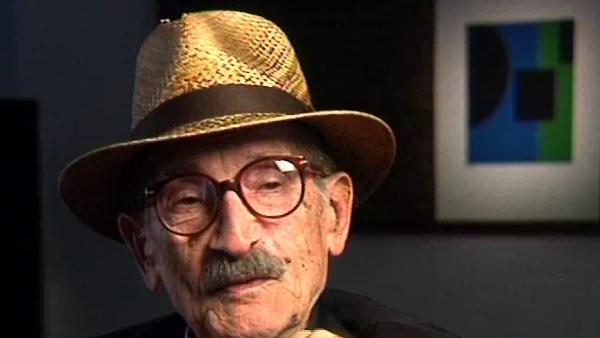 The Disney/UPA rivalry; 'Toot, Whistle, Plunk and Boom'
1
2
3
4
5
6
...
10
Oh, the difference between Disney and UPA [United Productions of America] is that, at Disney, Walt was the last word. In other words, Walt said, yes or no. At UPA there was no second thing. Although those four or five names that I've mentioned, they were all good, all good. But if I walked into the room and I saw something, and I would say to Bob, 'Hey, you know Bob, if it was a little bigger, maybe it's better'. And Bobo would look at it and we'd talk like that. Most of the studios, you can't do that. With Walt, Walt knew. I mean, you just had to take it for granted, he knew. And if you went against Walt, heavy. That was not a healthy situation. But he really, from the bottom of his heart, or whatever you want to call it, Walt knew. He was just... he knew. And maybe because he spent more time at thinking about things, which I think is a biggie. Because often they come at 08:30 in the morning and go at 17:00, and that was it. With Walt, he would be stewing about things, he would look at books, he's got tons of books. They went to Europe, they came back, I can't remember what was the feature, they came back, I would say about 50 or 60 books they came back with, they bought. And that was the material they would be looking at and use it. And no studios would do that, to build really a library , you know, like that. But at UPA, we were able to open the streets to you or to anybody else who was on the premises, if you wanted a change. And you went and you said, 'Hey, this would be better if it was red'. 'Why would it be better?' 'Because red would show better'... yak, yak, yak. 'Okay, do it red, you know, if you feel like it, let's go with red.' And very few places would allow you that. Now, the director at Disney, who was the director on Bambi, and I came in with pink, red, yellow, purple coloured deers running. Well, none of them would do it or even dare to do it. But there was a shooting and the deers were running like hell and I thought a lot of colour would be better. And luckily, the guy who's art director, 'Okay, that's good, go ahead'. And so we had the red deers or purple deers. But the situation called for it because of circumstances, you know, the gun fight, the hearing the gun. So they were running, so anything that you can move things, move the content of an idea, that's good. Especially when you're dealing with animation, which is magic anyway, you know? So you don't have to knock yourself out and stay with what you see... you see? No, I don't see. I see purple. How come you see purple? I only see red. Well, purple is better. Okay, we go with purple. That's UPA, you know? And that's very rare, when you have an organization where they trust each other. And that's beautiful, that's beautiful. But when it comes to Walt, you have to give this man the credit that he never really got. He never really got the credit. Those films should have been directed by Walt Disney because that's the way it was. And the poor bastard, he never got that credit. I wanted to give him that credit, but I was in no position to do that. But he was somebody who really loved what he was doing and that's important. He loved what he was doing. He wasn't worrying about 17:00 or 17:30, I've got to run to get to the car, you know? He loved what he was doing and eventually he just got... he needed other avenue, and so that became a Disney Park. In other words, I think he gave everything he had and now he had to find another something, you know, which is fresh and new. And that's what happened.
The late Hungarian-American film-maker Jules Engel is best known for his contribution to the field of animation. His work includes the dance sequences in Walt Disney's 'Fantasia' and the creation of 'Mr Magoo'. His films and lithographs are housed in museums all over the world and have won many awards.
Title: Disney and UPA
Listeners: Tamara Tracz Bill Moritz
Tamara Tracz is a writer and filmmaker based in London.
William Moritz received his doctorate from USC and pursues parallel careers as filmmaker and writer. His forty-four experimental and animation films have been screened at museums in Paris, Amsterdam and Tokyo, among others. He published widely on Oskar Fischinger, James Whitney, Bruce Conner, the Fleischers and 200 pages of animation history for an AbsolutVodka website. He wrote chapters for the "Oxford History of Cinema", appeared in several television documentaries, curated art exhibits and received a lifetime achievement trophy from the Netherlands Royal Academy for his work with visual music. He has served on film festival juries and received an American Film Institute filmmaking grant. His poetry and plays are also performed and published. He is a leading expert of Oskar Fischinger and recently published a biography of him. He teaches at The California Institute of the Arts.
Tags: United Productions of America, Disney, Europe, Walt Disney, Robert Canon
Duration: 5 minutes, 3 seconds
Date story recorded: April 2003
Date story went live: 24 January 2008