NEXT STORY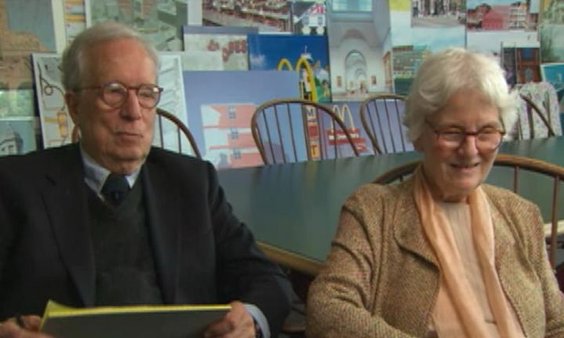 The evolution of the Vanna Venturi house
Robert Venturi and Denise Scott Brown
Architect
1
2
3
4
5
...
12
[RV] My mother was, and father, were both important to me in many ways, not only as giving birth, having me as a child, but they were just wonderful people. My mother was a – I've said that, told this many times – but my mother was the daughter of a poor immigrant Italian family, who could not afford to buy her a winter coat one year when she was in high school, so she had to drop out of high school. But she was continuing… they did… a teacher who loved my mother continued to educate her on the side. Miss Carol, I know her as, who admired my mother, and my mother later became very educated, self-educated. She was a… she became a socialist and voted for Norman Thomas every time he ran, the socialist candidate.
[DSB] That's why Bob sympathised with the social planners.
[RV] That's about right, undoubtedly. She was a pacifist and she thereby then became a member, a Quaker, a member of the Society of Friends. I was never sent to a public school, because in those days you had to pledge allegiance to the flag, she thought that was coercive patriotism, so I always went to a private school. But on the other hand, despite all that, she had enormously good taste, she was very interested in dressing well, which usually you don't think of a socialist woman as going that way. And the furniture that I grew up with… with my mother and father… what they bought when they were married, was just, and is just fabulous furniture… that was… and I very much considered the house, when I designed it, as a setting for the existing furniture that they had, and there are pictures of that to acknowledge the way it was, and I think she was very happy living in the house, I think she was happy with it. My father had died by then, and it soon became a place where lots of young architects came to… or architects came to… visit the place from all over. And she was happy to show them through, and give them a lecture on me as a child, and other things, maybe about socialism.
[DSB] The architecture of the house and the babyhood of its architect.
[RV] God knows. But anyhow, but it was just a… it was a very nice experience to work with that client who was absolutely sympathetic and understanding.
[DSB] Tell them about your father.
[RV] My father, I learned a while back from a historian in Philadelphia who referred to the fruit store designed by Phineas Paste in '99, for Robert Venuri. My father was a fruit merchant, his family came here, he also was born in Italy, but came here. They started a fruit store, and they were poor at the beginning, and in the end he became quite prosperous, and the fruit store became a, not…
[DSB] A wholesale.
[RV] Became wholesale. He produced… you know… delivered fruit to restaurants, to hotels, to universities, to institutions, hospitals. And anyhow, I said, oh, how could that be? In '99 my father was only something like 28 years old, and Phineas Paste would be a very famous and establishment architect, he was one of the architects to design the Belleview Stratford Hotel in Philadelphia. But then I said, ah, he was a friend, and he was… my father was a friend of all the architects in Philadelphia at that time, even though he was… never finished high school and was a fruit merchant.
[DSB] He wanted to be an architect.
[RV] He wanted to be an architect. The building was never built, that he designed for my father, but eventually there was a warehouse designed for my father in 1922, when it was a wholesale business, and that was designed by a well known… a local architect named Edwin Brumbaugh. They both loved architecture, he wanted to be an architect, and they probably influenced me directly and indirectly, but from the very beginning I wanted to be an architect. I can never remember when I did not want to be an architect. I can still drive through streets that were on the way to kindergarten, when I went to kindergarten, and point out my favourite buildings along the way, houses that I… that I liked.
Internationally renowned architects Robert Venturi (1925-2018) and Denise Scott Brown (b.1931) have helped transform contemporary design through their innovative architecture and planning. Winners of numerous prestigious awards, their designs have championed multiculturalism, social activism, symbolism, pop culture, history and evolving technologies.
Title: My mother and father
Listeners: Thomas Hughes
Thomas Hughes is Mellon Professor Emeritus of the History of Science at the University of Pennsylvania and Distinguished Visiting Professor at the Massachusetts Institute of Technology. His most recent books include Human Built World, Rescuing Prometheus and American Genesis. He is a member of the American Philosophical Society, US National Academy of Engineering, Royal Swedish Academy of Engineering Sciences and the American Academy of Arts and Sciences.
Duration: 4 minutes, 45 seconds
Date story recorded: 22nd to 23rd September 2006
Date story went live: 27 May 2010