NEXT STORY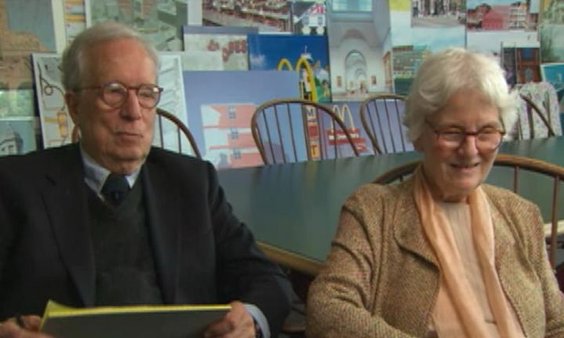 Influences and qualities of the Vanna Venturi house (Part 2)
Influences and qualities of the Vanna Venturi house (Part 1)
Robert Venturi and Denise Scott Brown
Architect
1
2
3
4
5
...
12
[RV] The house, of course, itself is an interesting subject, and the house was enormously understood, it was considered Postmodern…
[DSB] Misunderstood.
[RV] Enormously misunderstood, and it was Postmodern, as being Postmodern. I love quoting, at Columbia last week, or two weeks ago where I… I referred to a cover of a magazine where I am… there's a photograph of me and there's a quote saying, 'I am not a Postmodernist, and I have never been a Postmodernist', or a communist. But anyway.
[DSB] That was the famous statement that was made at the House Un-American Affairs Committee [sic] by all those people who were accused by McCarthy, and so Bob was quoting that statement. That might not be known by an audience outside America.
[RV] That… but with the house, I just… it does contain many, many, many qualities that are contradictory in a way. It has the idea of layers, the façade are layers, in a sense, that go in two… two directions. Not to be pretentious, but I learned a lot from the Villa Savoye, which is my favourite building of the 20th century… from that… which in a sense is a square, a layer that made a square building, so different from this one. It's just, it just has two parallel layers, and then, but it's a layer where there's one thing on the outside – quite consistent symbolism and form – and then inside you saw all the complexities of a house behind. The juxtaposition of two things – that is where with your house, my mother's house, where it has a rather consistent form on the outside, and then you see complexities on the inside, which is in a way the essence of a house. So it's designing not from the inside out, but only, it's the inside out and the outside in, are both involved in that.
Were you writing Complexity and Contradiction, the book, when you were designing the house?
[RV] Yes, they were paralleling each other at that time, it was very funny that that was happening.
[DSB] And that was 1962, '63, '64.
[RV] Yes, we moved in… I moved in with my mother in April '64. But the… also, the… there's also the, the beautiful house that I love called the… in Bristol, Rhode Island… forget the name of the family of the house, but it's by McKim Meade and White, which is again where the sloping roof is not on the side of the house, but on the front, and therefore it's a very long sloping façade. It was a much more, much bigger house than my mother's house. I learned from that. I wanted to get the idea of the house as shelter, and the idea as shelter had absolutely gone out, it was space and not shelter. So that indicates shelter.
Internationally renowned architects Robert Venturi (1925-2018) and Denise Scott Brown (b.1931) have helped transform contemporary design through their innovative architecture and planning. Winners of numerous prestigious awards, their designs have championed multiculturalism, social activism, symbolism, pop culture, history and evolving technologies.
Title: Influences and qualities of the Vanna Venturi house (Part 1)
Listeners: Thomas Hughes
Thomas Hughes is Mellon Professor Emeritus of the History of Science at the University of Pennsylvania and Distinguished Visiting Professor at the Massachusetts Institute of Technology. His most recent books include Human Built World, Rescuing Prometheus and American Genesis. He is a member of the American Philosophical Society, US National Academy of Engineering, Royal Swedish Academy of Engineering Sciences and the American Academy of Arts and Sciences.
Duration: 3 minutes, 10 seconds
Date story recorded: 22nd to 23rd September 2006
Date story went live: 27 May 2010