NEXT STORY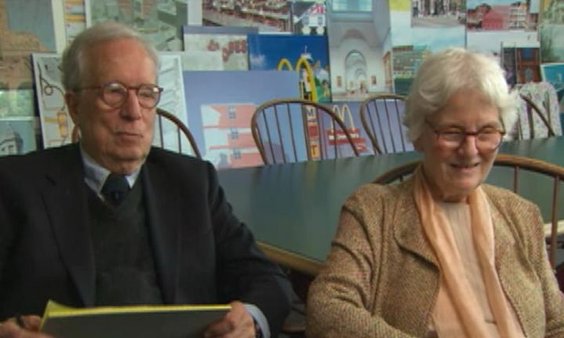 A moment of epiphany
Influences and qualities of the Vanna Venturi house (Part 2)
Robert Venturi and Denise Scott Brown
Architect
1
2
3
4
5
...
12
[RV] Then there was also the building which I really adored, another different kind of building. I have a very kind of taste that is, very extended, and that's the Castle…
[DSB] Drogo.
[RV] No.
[DSB] Not that one?
[RV] No, the one in… by… in England, by Hawksmoor and Sir… what's his name… oh my God, what's the name of that house, I'll think of it later. When I went to Europe the first time I took a liner that arrived in Liverpool on a Sunday morning. I took the train to London, got there Sunday evening, on Saturday, I got there on a Saturday evening. I went to the hotel, woke up the next morning in the hotel, and it was Sunday in August, I said, London will not be interesting in August on a Sunday, so I'm going to go out to Oxford for the day. So I took the train to Oxford, and just was flabbergasted by the beautiful combinations of buildings in Oxford, and then I realised, ah, I'm in Northern Europe, it will be still light at ten o clock at night, so I took a bus to this Castle, this very famous…
[DSB] Howard?
[RV] Baroque building. Is it the Castle Howard? God, I'll think of it. Very famous Baroque building… and part of that building… so that was my first day in Europe, I went to that building, and that is a place it has a broken pediment, and that broken pediment inspired…
[DSB] Blenheim.
[RV] Blenheim Palace.
[DSB] Blenheim is what you're thinking about, yes.
[RV] The broken, the broken pediment inspired the house where, through which you could look and see different things happening in your house, or in the mother's house. So there was that influence, and very much the Villa Savoye… I went to the Villa Savoye later on that trip, so…
[DSB] There's Mannerist also in it.
[RV] Also Mannerist, yes.
[DSB] In these juxtapositions.
[RV] That's right, these are Mannerist buildings.
[DSB] Particularly the… that big roof which spans the wrong way, because usually you span a house across it's shorter span, so the roof is suggesting you spanning it across the long span.
[RV] Your house and my mother's house also has the first window of the mid 20th century, because windows went out of fashion. You, you either had an absence of wall in a modern building, or you had maybe a strip window. She's never had a window like a window, and I even put that in it, and so that was the first window to come back. I knew I was being negative and wrong, and therefore right. The… so anyhow, and then I had this explicit ornament, just a touch of ornament on the façade where there's a slight arch, that's juxtaposed on the non-arch opening… of the opening. So, but I think to get back again to the trip, it does indicate how much I was influenced by and loved history of modern architecture, and that goes back, I don't know where it begins, probably with my father and mother who loved history.
And then I went to a university called Princeton, which was probably the only university at the time where architects studied history. History was out, you went to Harvard or MIT, you did not study history, unless you were some kind of pervert maybe, who would maybe take it on the side. So, I loved history, and of course, that trip was very important to me to look at historical architecture in England, France and Italy where I travelled, and which I learned very much from. So that first part of my life there as an architect, was… I was loving historical architecture, which at that, in that context, was naughty and wrong. Then the second part was, I was learning, I was loving Las Vegas, and learning from Las Vegas, and the ordinary pop culture of the time. And those were two important influences, which affected me. There's really not much pop in your house, I hadn't really got to that yet, too much, but… but it is important that there's… that that be acknowledged in the mother's house which I still love.
[DSB] Did you mention the…
[RV] One thing I'm really mad about, was when I was designing the house, there's the front façade, I used eight inch concrete block that was stuccoed over, and I said, 'Oh, I really should make this 12inch block, but I'm going a little bit over the budget, and I don't want to do that for my mother's sake', so I left it at eight inches, and every time I look at that as you go round the bend that should be a wider, more vital element of the house, and I made a mistake by not going over the budget to do that. C'est la vie.
[DSB] Did you mention the influence of Furness in the nowhere stair?
[RV] Yes, in… in the house, in your house and my mother's house I, for some reason, wanted very much to follow a New England tradition where in the center of the house you have the chimney, the fireplace and the chimney, and then the stairway goes around it. Very different from Pennsylvania in the 19th, in the 18th and 17th century, and so that's… I did that in your house. Then as the stair goes to the second storey, there is also a nowhere stair that goes up to a blank wall and that stair is there partly as perverse expression architecturally, but also as partly a way, maybe, to wash the windows, so the high clear storey windows.
[DSB] You never do that.
Never. I don't think you did it in order to wash windows.
[RV] I thought I had to have a function, and that I think I really was influenced by having lived in it almost, or worked a lot, in the great Frank Furness Library. Frank Furness…
[DSB] At Penn.
[RV] At Penn, at which, which was… Frank Furness was a Victorian architect who was despised and hated until, until the '60s, where he came back into fashion, and a lot of his architecture has been removed in Philadelphia. He did many banks there, he was very prosperous, a very successful architect. But he was an architect who brought us together… Denise, I tell the story a lot… where Denise's first faculty meeting, when she has been just the year before a student, and was a member of the faculty. I was a young faculty member, and I had naturally noticed her as a student but we had never met, and at that meeting the subject was, should the School of Architecture take a stand against the demolition of the Furness building, which was being considered by the university. Imagine such a thing.
[DSB] Which, which building, which of Furness'?
[RV] The Great… the Great, the library at Penn, that the central… later it no longer… later it became the Art Library, it was then the Central Library. A great building of the 20th, 20th century. Denise… or the, of the 19th century. Denise made a great plea that the School of Architecture should take a stand and save this building because it had great quality. Afterwards I… and fortunately they voted to do that. Afterwards I went up and I said, I want to, I want to, I want to tell you how much I agreed with what you said about the Furness building, and I introduced myself, my name is Robert Venturi, and her first words were, why didn't you say something? So, been like that ever since.
Internationally renowned architects Robert Venturi (1925-2018) and Denise Scott Brown (b.1931) have helped transform contemporary design through their innovative architecture and planning. Winners of numerous prestigious awards, their designs have championed multiculturalism, social activism, symbolism, pop culture, history and evolving technologies.
Title: Influences and qualities of the Vanna Venturi house (Part 2)
Listeners: Thomas Hughes
Thomas Hughes is Mellon Professor Emeritus of the History of Science at the University of Pennsylvania and Distinguished Visiting Professor at the Massachusetts Institute of Technology. His most recent books include Human Built World, Rescuing Prometheus and American Genesis. He is a member of the American Philosophical Society, US National Academy of Engineering, Royal Swedish Academy of Engineering Sciences and the American Academy of Arts and Sciences.
Duration: 7 minutes, 46 seconds
Date story recorded: 22nd to 23rd September 2006
Date story went live: 27 May 2010