NEXT STORY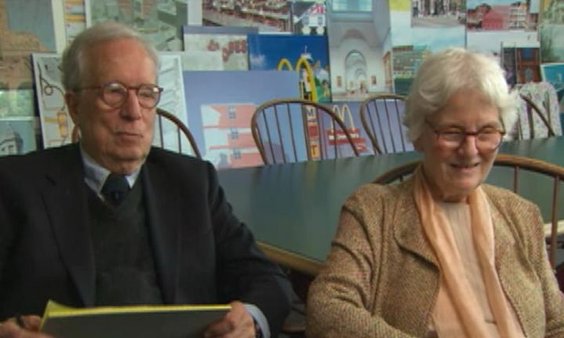 The Guild House and New York University
Robert Venturi and Denise Scott Brown
Architect
1
2
3
4
5
...
12
[RV] I should mention that part of the Library that my mother left to me was Bernard Shaw writing. She loved Bernard Shaw as a… a socialist, what do you call a socialist who is a non…
[DSB] Fabian.
[RV] Fabian Socialists, and who are the other Fabian Socialists who wrote, I don't know…
[DSB] The Webb's.
[RV] The Webb's, yes, so she had all these books that she was… had become an expert on. Mention rather quickly is… I… I, my life does not contain very many moments of… what do you call a moment of quick and um?
[DSB] Epiphany.
[RV] Epiphanies at all. I don't like epiphanies but there was one, where after I had lived in Rome for two years at the American Academy in the '50s, and I was about to leave Rome, suddenly it occurred to me in my studio at the academy, that I really was a Mannerist, that I really loved Mannerism. It wasn't the Baroque Rome, it was Mannerist Rome which was really, really a kind of – kind of tricky – which was… which was really fun.
Internationally renowned architects Robert Venturi (1925-2018) and Denise Scott Brown (b.1931) have helped transform contemporary design through their innovative architecture and planning. Winners of numerous prestigious awards, their designs have championed multiculturalism, social activism, symbolism, pop culture, history and evolving technologies.
Title: A moment of epiphany
Listeners: Thomas Hughes
Thomas Hughes is Mellon Professor Emeritus of the History of Science at the University of Pennsylvania and Distinguished Visiting Professor at the Massachusetts Institute of Technology. His most recent books include Human Built World, Rescuing Prometheus and American Genesis. He is a member of the American Philosophical Society, US National Academy of Engineering, Royal Swedish Academy of Engineering Sciences and the American Academy of Arts and Sciences.
Duration: 1 minute, 12 seconds
Date story recorded: 22nd to 23rd September 2006
Date story went live: 27 May 2010